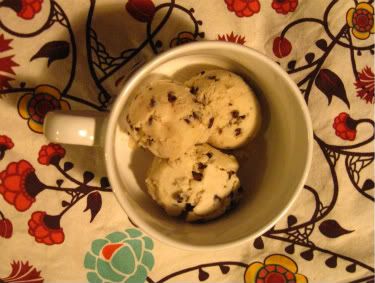 recently my girlfriend had to have surgery. so i wanted to make as many tasty things for her to eat as possible. this was at the top of the list for her as a must have comfort food. the entire batch was consumed within a few days. she can't stand watching
alton brown
- but she sure loves eating the food i make after i force her to :)
this ice cream is so good and so easy. there is no need to precook it to make a custard. you just throw the bananas and the ice cream maker bowl into the freezer overnight. the next day you mix everything into a food processor and then let the ice cream maker do all the work. you will thank me later...
banana ice cream...
6 ripe bananas
1 tablespoon fresh squeezed lemon juice
3/4 cup light corn syrup
1 vanilla bean, scraped or 1 tsp vanilla extract
1 1/2 cups heavy cream
mini chocolate chips about 1/2 a bag (optional)
chopped walnuts - about a cup (optional)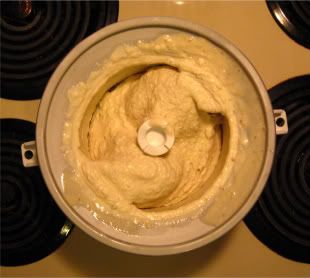 peel bananas and put on a cookie sheet. place bananas in freezer and freeze overnight. remove bananas from freezer and allow to thaw for 45 minutes to 1 hour. place in bowl of food processor along with the lemon juice and process for 10 to 15 seconds. add corn syrup and vanilla bean seeds and turn processor on. slowly pour in the heavy cream and process until smooth.
chill mixture in refrigerator until it reaches 40 degrees. then throw into an ice cream maker. stir in any extras like chocolate chips and walnuts. steal a few spoonfuls - then put the ice cream in an air tight container and let harden.