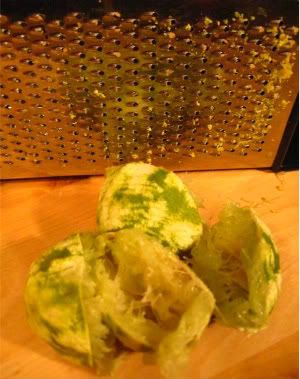 so my friend seth is having a birthday party tomorrow and i want to make him something tasty. his wife said he really likes citrus so i knew i had to bust out this recipe. i love these cookies. they are so light and fresh tasting. the mix of the lemon and the lime gives the cookies such great flavor. and they are really easy to make. bar cookies are really quick and feed a bunch of people. they were a hit at the party.

lemon & lime squares...
for the crust:
1 cup all-purpose flour
1/2 cup powdered sugar
2 tbsp grated lemon & lime zest
1 stick softened butter
for the filling:
4 eggs
1 cup sugar
1/4 cup freshly squeezed lemon juice
1/4 cup freshly squeezed lime juice
3 tbsp all-purpose flour
confectioners' sugar for dusting
1/4 to 1/2 cup sweetened shredded coconut (optional)
preheat the oven to 350...
make the crust:
in a medium bowl mix together the flour, sugar, and zest. cut in the butter to make a dough the consistency of coarse cornmeal. or make the dough in a food processor mixing the dry ingredients and then pulsing in the butter. press the dough evenly over the bottom of an ungreased 8-inch square dish. bake the crust for 15-20 minutes until it is just beginning to turn golden around the edges...
while the crust is baking make the filling:
in a large bowl beat the eggs, sugar, and lemon & lime juices until light, about 2 to 3 minutes. mix in the flour and beat just until combines. pour the filling over the hot baked crust. bake for 20 to 25 minutes until the filling is set. cool completely on a wire rack. cut into squares using a small sharp knife. sprinkle with powered sugar and sprinkle with coconut. yum...