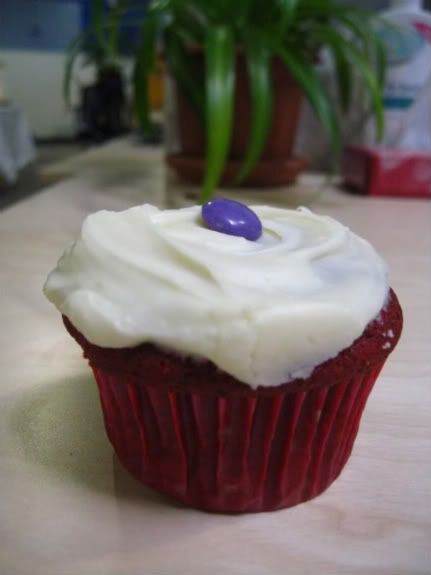 so i made this new year's resolution to bake less and get back into the gym...
so here i am - up in the gym busting my ass on the elliptical machine on my lunch break. now most days i have my ipod but today i don't. so i turn on the tv attached to the machine and sure enough i end watching food tv while working out. ridiculous right. sweating and drooling at the same time. it is the most exquisite torture...
so i am watching sunny making her grandma's red velvet cake... now valentine's day is right around the corner. which is a perfect excuse to bake guilt free cupcakes. but they are for valentine's day i say. i am going to bring them into work. it is perfectly innocent...
fast forward to later that evening - me making cupcakes at 11pm...
so the cake batter came together pretty easy. the frosting on the other hand - not so much. i really struggled with the traditional cooked frosting. it never got as light and fluffy as the recipe promised. the best i got was thick and opaque frosting-like substance. it tasted delicious on the cupcakes but it wasn't as pretty as i wanted. so i also made some cream cheese frosting to go on the other half of the cupcakes. i will give you both recipes...
here is the cupcake recipe and the original frosting recipe...
red velvet cake
2 sticks butter, room temperature
1 1/2 cups sugar
2 ounces red food coloring
3 tablespoons cocoa powder
pinch salt
2 eggs
1 cup buttermilk
1 teaspoon vinegar
1 teaspoon vanilla extract
2 1/2 cups all-purpose flour
1 1/2 teaspoons baking soda
5 tablespoons all-purpose flour
1 cup milk
1 cup sugar
2 sticks butter
1 teaspoon vanilla extract
1 1/2 cups chopped pecans (optional)
preheat oven to 350 degrees f.
cream butter and sugar in a stand mixer fitted with the paddle attachment until light and fluffy. then make a paste out of the red food coloring, cocoa and salt in a small bowl. remove bowl from stand mixer and mix in paste by hand to the creamed butter. stir eggs with buttermilk in a measuring cup. place bowl back in mixer and add egg mix to batter. mix in vinegar and vanilla, and then add flour and baking soda. mix until combined but do not over mix...
grease two layer cake pans or put cupcake liners into two muffin tins. pour batter evenly into pans. bake cake until a toothpick comes out clean, about 30 minutes for layer cakes and 25 minutes for cupcakes.
to make the frosting: heat all ingredients in a medium saucepan. whisk until sauce thickens- about 15 minutes. let cool slightly before using.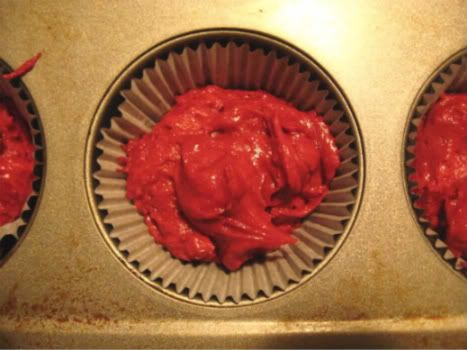 so i definitely had some issue with the cooked frosting in this recipe. what i ended up doing was making basic cream cheese frosting for the other half of the cupcakes. here is my basic cream cheese frosting recipe...
cream cheese frosting
1 8-ounce package cream cheese, softened
1/2 cup (1 stick) unsalted butter
1 pound of powder sugar (sifted)
1 teaspoon vanilla extract
1 tbsp milk or half & half
mix the cream cheese and the butter in a mixer with the paddle attachment. add the vanilla. sift the powder sugar. put mixer on low speed and add the powder sugar cup by cup until incorporated. use milk about halfway through to keep the mixture from getting clumpy. i usually double the frosting if i am making a layer cake.