i love ice cream. and i love my ice cream maker attachment for my kitchen aid. it fucking rocks. it was a christmas present from my sister because she understands that i am crazy and need to make ice cream at 11pm on a tuesday...
so price chopper had strawberries on sale and i picked up two pounds. and my mother in law is visiting. she had never made homemade ice cream before which is a shame because it is pretty easy to make and so damn tasty. so since we had all those nice strawberries laying around - i had to break it out...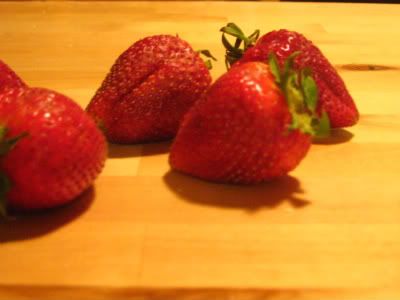 this ice cream turned out so good. i liked using the half & half in place of the cream. some times when you use heavy cream - it can be a little too rich. this was a really creamy and flavorful...
you could throw any kind of berries in here. or probably any kind of fruit. next time i would add a little booze to the fruit to make it fancy. you could use a little chambord (a raspberry flavored liquor), or maybe a splash of schnapps if you want to make peach ice cream. be creative with it...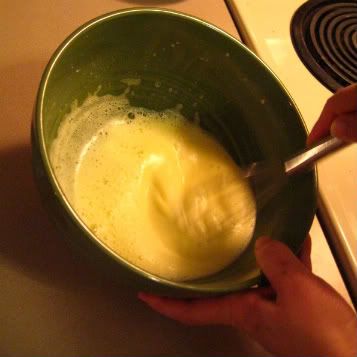 old-fashioned strawberry ice cream...
2 cups sliced strawberries
3/4 cup sugar
ice water
1 pint half&half
2 large egg yolks
in a medium glass or stainless steel bowl, combine strawberries and 1/4 cup sugar, mash with a fork. smash them up pretty small because you don't want big chunks in the ice cream. this is where i would have added a splash of chambord - booze goes well with everything my friends. set the bowl in a larger bowl filled with ice water...
in a medium saucepan, bring the half & half and remaining 1/2 cup sugar to a simmer - stirring occasionally over medium heat. in a heatproof bowl, whisk the egg yolks then gradually whisk in about 1/2 cup of the hot cream mixture. pour the mixture into a the sauce pan and cook whisking constantly over medium heat until steaming hot and frothy, about 3 minutes...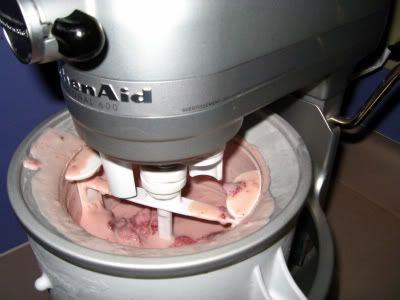 strain the custard into the bowl of strawberries. let stand whisking occasionally until cool (or throw in he freezer or fridge)...
toss the cooled custard in to your ice cream maker of choice. feel free to sneak a little spoonful at this point. or 2 or 5. then put ice cream into an airtight container to harden. serve in bowls or in a cone to be fancy...
quick note about ice cream makers --> i used a cheap-o walmart one i bought years and years ago. it was 10 dollars or something like that and it worked really well. also you can check out garage sales for old hand crank style ones. but summer is coming my friends and i truly believe you should try making your own ice cream...