so my girlie is jewish and loves herself some pork. bacon, pork chops, sausage, pork chops stuffed with sausage - don't worry - we will definitely post that one too. so one of our favorite quickie dinners is sausage and peppers...
this recipe is one i just have messed around with until i got the results i wanted. sausage with lots of peppers and onions in a chunky, thick tomato sauce. throw it all on a crusty roll with some fresh mozzie and you got a hell of a sandwich...
this is also really great for parties. make up a big tray of this and big tray of ziti - and you got enough food to feed 15 people. or like 8-10 italians. i am going to write the recipe with enough for about 4-6 people. half it for 2 people and have some tasty leftovers. double the recipe for a 9x13 tray...
sausage and peppers...
2 pounds good italian sweet sausage (with fennel if you can find it)
1 cup white or red wine
olive oil
1 large red onion
1 red bell pepper
1 yellow bell pepper
1 green bell pepper
3 cloves of garlic
1 can crushed tomato - 14oz
1 can whole peeled tomato - 28oz
basil
kosher salt
pepper
olive oil
red pepper flakes
nice crusty rolls or italian bread
a ball of fresh mozzarella cheese
cut the sausage into 2-3 inch pieces. put all the sausage in a frying pan over medium high heat. make sure to brown sausage on all sides to really get good flavor going on. you might need to do this in two batches...
while sausage is cooking start cutting up the veggies. slice the onions and peppers into strips. and throw into a bowl. mince the garlic...
once sausage is nice and crispy - add the wine to the pan. scrape all the little brown bits from the bottom of the pan and let this cook for a few minutes on medium heat. pour this all into a bowl and set aside...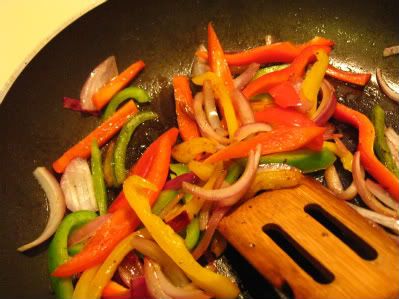 add a tablespoon or 2 of olive oil to the pan. once it is hot add the garlic, onions and peppers. let them cook for 5 to 7 minutes to get all nice and cooked. then add the sausage and juices back to pan. cook for another minute to combine. then add crushed tomatoes to pan. open can of whole tomatoes and crush the tomatoes into the pan with your hands. it is always a good meal when your hands get dirty...
also add about a 1/2 cup of the tomato juice - discard the rest. season with salt, pepper and red pepper flakes for a little heat. let this cook over medium heat until sauce has thickened. add a handful of torn up basil leaves right before serving...
slice open your roll, pile on a big scoop of sausage and peppers. top with a slice or two of fresh mozzie. grab yourself a bib and go to town. no really, i am serious about the bib - you are gong to get this everywhere. but it is worth it...
(guess who wants some)