and so spring has finally started up here in cold ass vermont... its about damn time... the week was beautiful and sunny... and then the weekend hit and it dropped to 30 and we got flurries... got to love it... so instead i stayed inside and bake and planted some seedlings...
i decided to make apple crumb pie... because i had a bunch of apples sitting in the fruit basket just lingering... originally i had the idea of making apple butter... but there is just something so relaxing about making pie... rolling out the dough... cutting up all the fruit... the smell that fills the house when the pie is baking... and its sunday... i love baking on a sunday...
so i use a mix of all different kinds of apples... make sure you definitely throw a few granny smith in there... the tartness of the apples is delicious in the baked pie... i also used a crisco based pie crust recipe... which i will include below... feel free to sub a butter pie crust -
like this one
... it is really your preference... i like the flakyness of the crisco crust...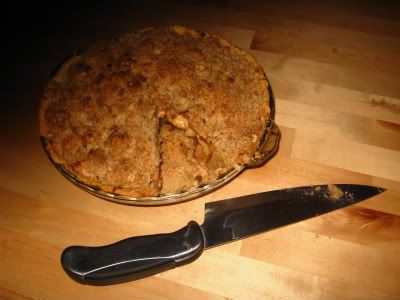 apple crumb pie
6 - 8 apples (granny smith, macintosh, whatever)
2 tbsp flour
1/2 cup brown sugar
1 tsp cinnamon
1/4 tsp nutmeg (otpional)
sqeeze of lime or lemon juice
2 tsbp butter
crust for bottom of pie (recipe below)
crumbs for top of pie (recipe below)
preheat oven to 400 degrees f.
roll out 1 pie crust and place in a pie dish. combine apples, sugar, flour, and spices in a large bowl. put the apple mixture in the pie dish. dot the top with the butter. top with crumb mixture and press down slightly to stick to apples.
bake for 50-60 minutes until the crumbs are golden and juice are bubbling up from pie.
pie crust
2 cups all purpose flour
2 tsp sugar
1 tsp salt
3/4 cup of crisco (i like the to use the sticks - easy to measure)
5 tsbp ice water (seriously - add ice - not just cold)
mix dry ingredients in a bowl. add the crisco and mix into small pea size crumbs... then add the water tsbp by tsbp to the dough comes together. take half the dough and roll out in between two piece of waxed paper to about a 9-10 inch circle. use a pie dish as a reference. once the dough large enough lay it into pie pan. no need to pre-bake. press the other half into a small disk, wrap in plastic wrap, and throw in the fridge for later. or half the recipe.
crumb topping
1 1/2 cups flour
1/2 cup oats
1/2 cup brown sugar
1 tsp cinnomin
8 tsbp butter (leave out for a bit to soften)
mix together dry ingredients in a large bowl. cut butter into dry ingedients until size of small crumbs.
i actually ended up making this pie during the day... contrary to my new blog name... but this way we get to have pre-dinner pie... aren't you jealous...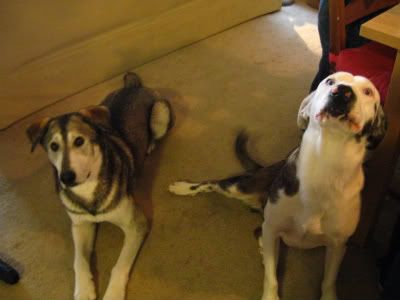 kate
=o)