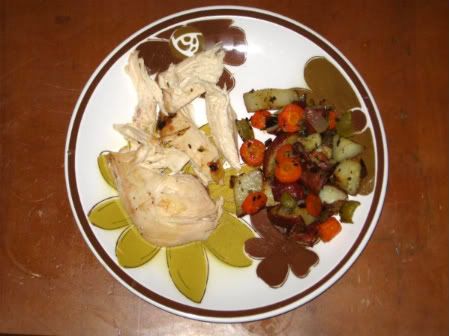 so i am learning all kinds of things this week with the start of this blog...
1. there is shitty light in my kitchen for taking photos
2. i am a messy cook - which also makes photographing my process interesting
3. i really need to learn me some photo shop...
tonight i am making a roast chicken... it is based off of
martha's perfect roast chicken recipe
...
i found this recipe when i first moved out on my own... and it is one i use over and over again... this recipe is great for a few reasons... it is pretty easy to make... about 15 minutes of prep and then you just have to baste it occasionally...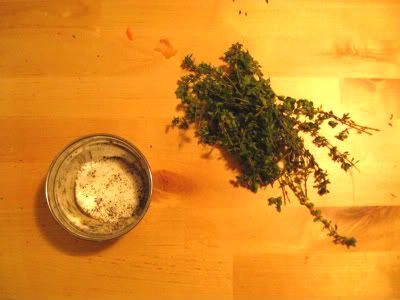 also you can really play with the recipe... you can use any herbs you want - thyme, rosemary, parsley, marjoram, oregano, basil whatever you have lying around... or instead of lemons you can use other citrus... like an orange... and then maybe add some honey to the butter to baste the chicken... mmmm... once you get the recipe down you can get creative with it...
another cool this is this recipe also makes a bunch of food for pretty cheap... roasters are always on sale for 99 cents a pound. the 6 pound chicken and the veggies will feed at least 4 people with leftovers... need to stretch it further... add a few more veggies and then cook a bag of egg noodles... feed another 2 people for 2 more bucks... sweet...
stick around for later this week and i am going to make chicken stock with the leftovers... check me out cooking on a budget... =o)
roast chicken
roasting chicken (6-7 pounds will feed 4 people)
2 tbsp butter
kosher salt
freshly ground black pepper
2 large onion or two medium
1 lemon
4 or 5 cloves of garlic
a handful of fresh herbs like thyme rosemary, parsley whatever
a little wine or chicken stock for bottom of pan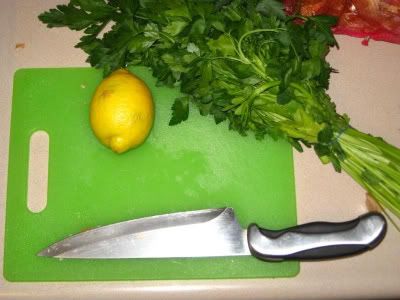 take the chicken out and let it rest on the counter for 20 mins. preheat oven to 425 degrees. remove the bag of guts from the chicken cavity. rinse chicken inside and out under cold running water. dry chicken thoroughly with paper towels. tuck the wing tips under the body. rub inside cavity with salt and pepper.
slice up onion into the bottom of a roasting pan (or a 9 x 13 pan). place chicken in pan on top of onions. cut lemon in half. put half in chicken cavity. slice the rest and put a few slices under skin of breast. smash the garlic cloves. put a few in cavity of chicken and few in dish. take half the herbs and put in chicken cavity. put a couple springs under chicken skin with lemon. sprinkle rest on and around chicken. use kitchen twine to tie the legs of the chicken together. if you don't have twine - that's cool - i have know idea why i do this other then martha told me too...
throw a little wine or chicken stock in bottom of pan. if you have neither just add a little water to prevent burning. melt the butter in a little dish with a few scraps of the herbs. brush the melted butter all over the chicken. sprinkle chicken all over with salt and pepper and throw the whole thing in the oven.
the chicken will need to roast for about an hour and a half. in order to test if the chicken is done - you can use a meat thermometer. the breast should read 180* and the thigh 190*. if you don't have a meat thermometer get one. in the meantime, the juices of the chicken should run clear when you cut between the thigh and the body. but seriously, get a meat thermometer, its like 5 bucks.
(psst - if you wanna make soup with me this week... keep the carcass of the chicken... just throw tinfoil over it and stick it in the fridge for the night...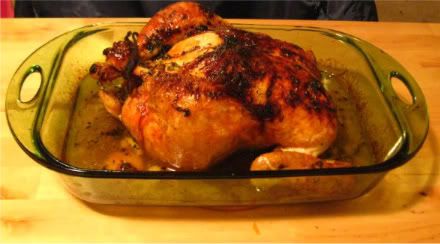 so the roasted veggies are pretty easy... it is just a bunch of chopping... this recipe is great for cleaning out some of those veggies that have been lurking in your refrigerator drawer for a while... you can pretty much throw anything in this... i always at least start with potatoes, onion and carrots... but some sliced zucchini is great in here. so is yellow squash, cherry tomatoes, bell pepper... this recipe will feed about 4 people. just add a few more veggies to feed more...
roasted vegetables
3 carrots
1 onion
2 stalks of celery
5 or 6 potatoes
1 sweet potato
3 cloves of garlic
kosher salt
fresh pepper
olive oil
rosemary
thyme
preheat oven to 425 - same temp as chicken. grab a 9 x 13 inch pan. peel and chop all veggies into pieces. (psst - if you wanna make soup with me later this week... throw all the veggie scraps in a ziplock baggie and toss in the freezer)... toss all the veggies into pan. mince up garlic - add to veggies. add about two tbsp of oil, salt, pepper and herbs. stir until evenly coated. cook in oven for around 45 minutes. make sure to stir a few times with a spatula and loosen from bottom of pan. serve with the chicken.