so i am sure by now it is well known that i have a baking problem... cookie issues... a pie addiction... and an ever growing waistline from eating all of the goodies i bake... so in an attempt to make something tasty but not super bad for me.
so i tried this very yummy looking coffee cake from one of my favorite blogs -
everybody loves sandwiches
...
so this cake is not without sugar or butter. but it has alot less then most crumb cake. especially a lot less butter but the oil really give the cake a nice texture. you could try other fruit in there like strawberries or peaches or blueberries. yum.
i had to work this saturday and it was so fucking tasty for breakfast with a big cup of coffee. you know since it was so healthy - i felt throwing a drizzle of icing on it was acceptable...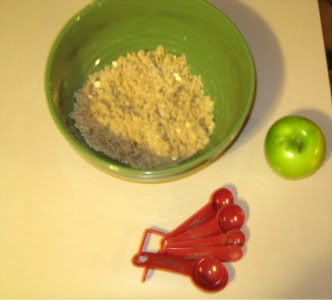 apple crumb coffee cake...
1 1/2 cup flour
2 1/4 tsp baking powder
1/2 cup brown sugar
1/2 tsp salt
1/2 tsp cinnamon
1/4 tsp cardamom
1 egg
1/2 cup milk
1/2 cup canola oil
1 granny smith apple, chopped
crumb topping:
1/2 cup brown sugar
1/4 cup flour
1/4 cup rolled oats
3 tbsp butter
1/2 tsp cinnamon
1/4 cup walnuts
preheat oven to 400. butter and flour an 8" round cake pan - shaking off any excess flour. make crumb topping in a medium-sized bowl. using your fingers mix in butter until you have pea size crumbs. set aside...
in a large bowl mix together dry ingredients. in a smaller bowl combine egg, milk and oil. add the wet to the dry and mix. add in apples and stir until combined. pour batter into prepared pan and top with crumb mixture. bake for 25-30 minutes or until a knife inserted in the center comes out clean. let cool.
prepare a pot of your favorite coffee and go to town...