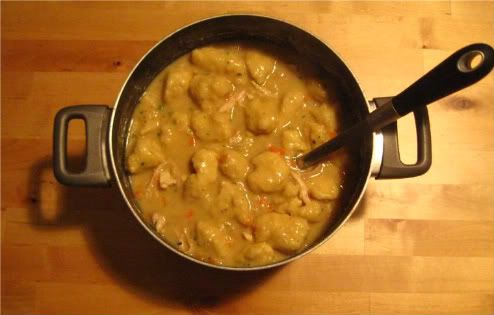 so remember how we made all that chicken stock last week and put it in the freezer for later. well this is why my friends - so you can make kick ass chicken and dumplings in about a half hour...
now i lived in texas for almost 4 years. and i was under the impression i would get around to learning to make all the tasty home cooking... alas - i didn't learn to make all the biscuits, and fried chicken and pecan pie that made me gain 30 pounds. so of course when i got home - i learned how to make chicken and dumplings my damn self...
the recipe i used is based on
tyler florence's recipe
on foodtv.com. it got great ratings from most of the people who used it. i have made from start to finish and is delicious. but as i found out - when trying to make the entire thing in one night - the whole process will takes close to 3 or 4 hours making for some very hungry dinner guests...
but no worries. we have previously made frozen chicken soupy goodness at our disposal. for the meat for the stew i just used a store bought roasted chicken. they usually have them in the deli section of most super markets for about $5. this is great because it cuts out a huge step...
chicken and dumplings...
(the quickie version)
2 tbsp butter
1 tbsp oil
1/2 cup diced carrot
1/2 cup diced celery
1/2 cup diced onion
3 cloves garlic - minced
2 bay leaves
1/4 cup flour
7 cups chicken stock (use your own frozen or really good store bought)
1/4 cup heavy cream
kosher salt and fresh ground pepper
several springs fresh thyme and rosemary
in a dutch oven or deep pot melt butter and heat oil over medium heat. add carrot, celery, onion, garlic, and bay leaves. saute about 5 minutes until the vegetables are soft. stir in the flour to make a roux. continue to stir and cook for 2 minutes to coat the flour and remove the starchy taste. slowly pour in the chicken stock stirring well to prevent clumps. let sauce simmer for about 15 minutes until it is thick enough to coat the back of a spoon....
while the stew is cooking - pull all the meat off the chicken and set aside. make the batter for the dumplings using the recipe below. carefully drop heaping tablespoonfuls of the dumpling batter into the hot mixture. the dumplings should cover the top of the sauce but should not be touching or crowded. then fold the reserved shredded chicken into the sauce. let the dumplings poach for 10 to 15 minutes until they are firm and puffy. chop up the fresh herbs and sprinkle into stew. season with freshly cracked black pepper...
dig in. then feel too full to leave the couch. awesome...